The running joke is that after Dodd-Frank banks have become compliance companies that happen to make loans. It is funny because it is true. Dodd-Frank has over 22,000 pages of compliance regulation. Who can possibly understand and navigate all of that regulation?
There is one company that is widely regarded as the ultimate Dodd-Frank expert. This company is based in Washington D.C. and is hired by every major bank to help navigate these complex regulations. This company is called Promontory Financial Group and it is comprised of the all of the heavy hitters in bank regulation. Check out their firm leadership page, it includes senior leaders from the Fed, Treasury, White House, World Bank, Fannie Mae, FDIC and the OCC. They even have the former Vice Chairman of Citigroup and a Senator that was on the Senate Banking Committee for over 18 years. This firm has the who's who of bank regulation.
Ever since Dodd-Frank was passed, banks have spent big time on compliance. It is a bull market for Promontory, which has helped everyone figure out those 22,000 pages of compliance. In order to put it into perspective, check out this WSJ chart from May 2016: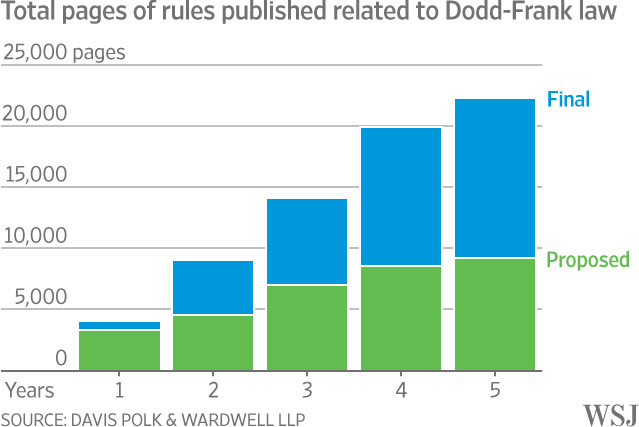 "The six largest U.S. banks by assets in 2013 together spent at least $70.2 billion that year on regulatory compliance, up from $34.7 billion in 2007, according to the most recent study by policy-analysis firm Federal Financial Analytics Inc., which said costs have continued to mount since then."
The smart people at IBM took note of this massive shift in spend and the enormous regulatory problem for banks, they have the perfect solution – Watson. What if you take that 22,000 page book and you let Watson read it and then give advice? Let the computer figure it out. That is exactly what IBM has in mind now that is has purchased Promontory.
"Promontory, combined with IBM's deep industry expertise and Watson's cognitive capabilities, will directly address the massive operational effort and manual cost of constantly changing regulation and risk management requirements. With the completion of the acquisition, Promontory will help accelerate IBM's development of cognitive solutions for risk and compliance." [Read more…]